I honestly don't think I could have picked a better theme than rainbows. Especially at the start of spring. Everything is colorful, the flowers, the trees...Well everything in Washington is colorful. The grass is already a dark green and all the plants are blooming. It was the perfect setting. Plus, throwing in rainbows was easy. PRIMARY COLORS FOR ALL!!!!
Anyway, Lucy had a absolute perfect day. She ran around with her friends all day and they played games and laughed and painted and took pictures and ran around some more. The weather couldn't have been more amazing, it was a perfect day, 65 degrees and sunny. The weather gods shined down upon us. Apparently, this is not the norm for April in Seattle. I don't care, I will take it.
So anyway, as I said Sunday night, I wanted to share the party as a whole with you today and then in the next few weeks, I will breakdown each "section" of the party into smaller posts so I can go into more detail of what I did, where I got the ideas and even how much some of it cost because if I was you, I would probably be looking at this party thinking that I dropped way more than I actually did.
And on to the pictures.
First I would like to show you the table spread. I am in love with how it turned out.
Yes, we hand sorted a case of skittles. Yes, we are crazy. No, the blue ones are not skittles, they are m&ms.
Here was where the kids did their painting.
The piñata This was Lucy's biggest requirement.
Lucy's favorite things board where she said her favorite food was roast beef which is odd seeing as she hasn't had it for a few years. Maybe she is trying to tell me something.
The ring toss game, made from PVC pipes
Marshmallow shooters also made from PVC pipe. There was also a red and a purple one, but by the time I got to taking pictures of them, the kids had moved in for the kill.
The birthday girl with her "5" shirt that I made for her. She is also wearing a necklace that my mom made for her and one that I made for her.
The "photo booth"
Awww the D-man
The girls getting ready to paint
The parents
Seriously could that chalk be any bigger?
Notice Lucy's hair? OMG, I love it!
We tie-dyed shirts for the kids to use as smocks so they could try to keep their clothes cleaner
Our table of "creative juice" which was just lemonade
The finish works of art
The girls striking a pose
Who let him have a lollipop?
There isn't much more that this kid loves more than balloons
The girls eating their lunch
Just cutting the cake
Do you see the awesomeness of the inside???
Then it was piñata time. Which posed to be pretty stressful because it pretty much was the Unbreakable Piñata
So we had to step in and help.
And when I posed to be useless, Matt had to jump in. And then it finally broke.
We did wait until later to open gifts. No biggie though, it was a long day and it was nice to be able to do it without all the hubbub of the kids around. Lucy got this book from her grandpa Jim and grandma Candy, she was super excited about it
And this was probably the best card I have ever seen in my life. It says something like "Friendship is the rainbow of life" and then on the inside says "I think I just threw up a little" OMG seriously the best card ever.
When she opened this present she said "Oh I LOVE CRACKERS!" and then we had to tell her to open the cracker box to which there were no crackers but an actual gift.
And she made this face a lot and said "oooh it's so beautiful! Thank you [insert person's name here]" to pretty much every gift.
We had such a fabulous time. I cannot express my sincere gratitude to those that came and celebrated with us. And a huge thank you to my mother-in-law for helping with the set up and to Matt for letting me do what I wanted with it. It was a pretty crazy party and I am not sure if I will ever throw another huge party like this again, but we all had fun, Lucy made out like a bandit and afterwards, she came running out to me, gave me the biggest hug and said "mommy, thank you for the best birthday ever! I love you!!" Yep, I love you too kid. I love you too.
Please vote for this party at
Catch My Party
!
This post has been featured here: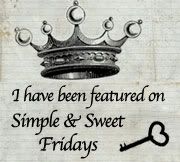 This post linked up with: