Lucy's birthday
was the rainbow carnations we did. I remember back in the day we did this in science class, maybe in middle school (?). Basically, you put food coloring in water and then put in white carnations. The carnations will drink up the colored water and the flowers will then take on the color of the water.
It's amazing.
It's now been over a week since we dyed them and they are still going strong. As a matter of fact, they are even more amazing now.
The green flowers, I think, came out the best.
The yellow was pretty good too.
This one was the orange, but it didn't pick up the orange hue as much as I was hoping, it's still more yellow than anything.
The red also turned out awesome.
But seriously, could they get prettier? I really really really loved them. And actually, I still love them because they look no where near dying.
This post was featured: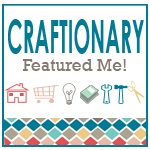 This post linked up with: