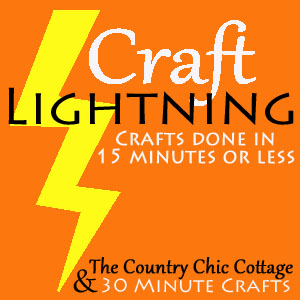 So I am participating in a bit of a challenge today...to produce a craft that takes 15 minutes or less, aside from dry time. I am pretty sure I nailed this challenge by doing this craft in just under 10 minutes...HOLLA!!! Read below how, then click on the lightening image to check out some more!
-------------------
If you have been following along on
Instagram
, you know that I am currently working on the coolest garden bedroom in the whole world, and by world, I mean in our house. Lucy and I have been putting our heads together to come up with the most fun decor and she's been giving me lots of input which, I guess is good, you know, since it is her bedroom and all.
Supplies
Three faux flowers
Three small blocks of wood
For this particular project, we ran out to Michael's. They had a bunch of these faux flowers on clearance for $.69 each so we picked out three.
And then we went down to their wood isle and picked out three wooden blocks. They are raw wood when you buy them, but I spray painted ours white.
When the blocks were dry, I turned them over and eyeballed the center of them. I probably should have measured but I couldn't find my measuring tape and it was late and I was lazy and tired. So I eye balled it. And I think I did a pretty good job.
Once I had the D hooks all attached, I ripped off the stems from the flowers and pulled out my trusty high heat hot glue gun.
I put the glue all over the back of the flowers and then smooshed them onto the wood blocks as centered as I could and held them there until they were dry, which only takes like a minute.
And then magic happened. I was so happy with how they turned out!!!
I can't wait to do the big reveal with Lucy's entire gallery wall, it's going to blow your mind!