For the longest time, I have been obsessed with metal stamped jewelry. I mean it just looks so freaking cool! And not only have I been obsessed with learning how to do it on my own, I want to buy it all, but it's expensive! And as much as I want ALL THE METAL STAMPED JEWELRY, I just can't afford it! So instead, I came up with an alternative solution.
Nothing will actually replace metal stamped jewelry, take for instance these INCREDIBLE cufflinks that my friend
Paige
made when she asked her fiancé to marry her: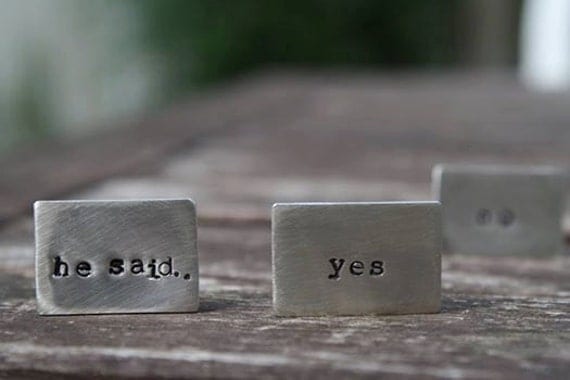 Super cute right? I totally love them! Now some back story...It was seeing a lot of Paige's stuff that I decided I needed to learn how to do hand stamping myself, so I did what any normal crafter would do, and I ran out to the craft store and I bought my own set of stamps and some metal materials to make stuff on. I had decided that I was going to hand make all my Christmas gifts doing metal stamping.
And then I got home with all my stuff and tried stamping my own stuff and well, it's not as easy as it looks. It's tedious and hard and LOUD! Definitely not something that I can do when the kids are sleeping and considering that is when I do most of my work...well let's just say it was something I learned the hard way, that it wouldn't be a craft that would make my regular rotation.
I quickly decided that the next best thing to do would be to find an alternative. Naturally, I couldn't find just
one
way to recreate these fun hand stamped pieces. No...I went and found three, but I am only showing you one way today here on Ashley's blog. The other two you will have to wait for, they are coming.
I started off with a ball of silver polymer clay in the approximate size of a marble.
I rolled it out flat and did a rough estimate of the size of a metal washer. I'm sure I could have found a good cookie cutter of some sort but I didn't have one so I improvised.
For the letters, I used a wooden letter stamp set that I got for $1 at Michael's a few years ago. The best part about using the clay and rubber stamps is that when I did this...
it was super easy to fix. I just used my finger to carefully rub the backwards "E" off and then I restamped it the correct way. You can't do that with metal stamping. When you mess up, it's permanent. See my key chain if you don't believe me.
The joys of learning a new craft. Now I get to carry around a keychain that makes me look completely illiterate. No one will ever want to read my book...
When I was finished stamping it, I cooked it in the oven by the manufactures recommendations. In 15 minutes it was done and in 10 more minutes it was cool enough to string up.
I added a plastic faux silver bead just for some added fun.
It's not perfect, but it only cost about $2-3 dollars to make this one. I think, for gifts, the real metal stamping is perfect, but for just playing around on your own, the clay is perfect. And it's simple enough for kids to do too, which makes me think I should plan an activity with my Girl Scouts!